They say that "planning is key to success".
In social media, EVERYTHING should start with a plan! That's why you need a social media marketing strategy.
The Everything Guide to Creating a Social Media Marketing Strategy
Your strategy is an on-going project, with many steps to complete. But trust us, it's the best thing you can do for your business social media.
1. Start with our free strategy checklist. This is what it looks like ⬇️ and just below is a link to download and save your own copy.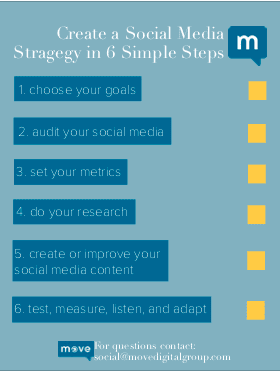 2. A social media marketing strategy is your plan. Read why it's the thing that guides all of your actions.
3. A strategy has to start with goals. But you have to put your thinking cap on. Find out why goals = success!
4. After you set your goals, you have to take inventory of what you've got to work with. It's time for a social media audit.
5. The next step in your social media marketing strategy is to select metrics. The metrics you will use (or ways to measure) should be chosen with care. Otherwise, your strategy doesn't work. See what we mean by hitting that gray button below.
6. Now you have to do some research. I know… that doesn't sound like fun. But it's important. You need focused research to inform your marketing strategy.
7. Each step so far has paved the path towards completing your new social media marketing strategy. Now we decide what we're going to put out there (content). This is the fun part and the reward for all of your hard work.
8. The final step is the one that goes on, and on, and on. This is the one that makes everything up above WORK. Now is when you test, measure, listen, and make adjustments.
Now you're armed with all of the steps to plan a perfect social media marketing strategy. Success is on its way.