What's the saying… "You don't know what you don't know?"
That's especially true when social media is one of a million things on your business' to-do list.
As a professional social media manager even I rely on a group effort to stay informed and learn new features. The constant change is a challenge.
At my last public speaking engagement, I got a ton of questions. It's clear that many of you are in a similar situation. You don't know what you don't know. This list is for you!
Social Media Questions That Should Be Frequently Asked Questions
1. Should I be using Twitter/Snapchat/Instagram/Pinterest/etc.?
This question usually presents in one of two ways.
I don't like that platform, so I'm not doing it. Am I supposed to be?
or
I'm on everything, but it's too much work. Should I be on everything?
The answer is, that it depends on your business's customer. Hopefully, you'll have a strategy that will uncover a persona and how you should "talk" to that person via social media. If your persona spends time on Twitter, then you should be there too, despite any personal opinions. If your ideal customer uses Instagram, then you should be on that platform.
The flip side holds true, too. If your client doesn't use Twitter, then don't waste your time there. When resources and time are limited, spend them where you know you'll get the biggest return on your investment.
Remember: YOU are not your customer and your personal opinions should not influence what's best for your business. Look at social media through your customer's eyes. Choose platforms where they spend the majority of their time.
READ: Social Media Demographics to Inform a Better Segmentation Strategy
2. How often should I post on Facebook?
The perfect post schedule can take some deep-diving into stats and strategy, and you may not have time for that. The best way to tackle how often to post is to commit to posting 3 – 5 days a week. If you can do this consistently, you'll get a feel for whether you need to increase to 7 – 10 times a week or keep it at just 3.
To make it easy on yourself, create an editorial calendar and stick to it.
Think of an editorial calendar as your map. Planning ahead takes the stress out of day-to-day posting.
Here's a very simple editorial calendar layout that you can use. Keep it simple! Don't be afraid to tweak it and adjust.
Examples of how it works:
Monday @ 8am: share an article
Tuesday @ 8pm: company news
Thursday @ 8 am: behind-the-scenes picture or pictures from around the office
Friday @ 5 pm: weekend message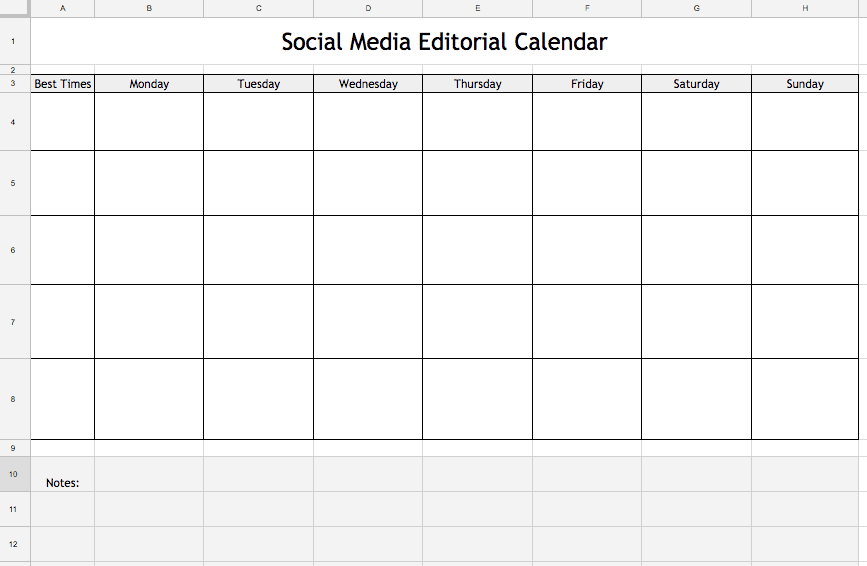 You can repeat the same "topics" each week. (No one will know- I promise!)
Give yourself three months and PAY ATTENTION. Which days, times, and topics get the most engagement? Keep those! Which ones are a bust? Swap them out for a different day and time, or change topics.
Do this over time, and you won't overwhelm yourself. Social media is not a race.
READ: 4 Steps for Creating a Social Media Calendar
3. What should I be posting?
Many strapped-for-time social media managers will fall back on promotional (or sales-targeted) posting because they are easy. But it's worth it to find content that your customers like and will respond to.
Examples:
Industry news (that is not about you)
Research, studies, and guides that relate to your business
Answer Frequently Asked Questions
Solve your customer's problems (as information, not a sales pitch)
Introduce your staff
Show behind the scenes
Explain how things work (without a sales pitch)
Inspirational quotes that relate to your industry
Videos that do any of the above
Infographics
Blogs that you write
News about your town
Community involvement by the business or employees (coat drive, volunteering, etc. )
Research shows that 46% of people will unfollow a brand because of too many promotional posts, so follow the 80/20 rule. 80% of your posts should be informative, while only 20% ask for something or make a sales pitch.
READ: Turned Off: How Brands Are Annoying Customers on Social
4. Should I boost my Facebook posts?
A boosted post is a post optimized for engagement. That means its purpose is to get likes, comments, and shares from a specific audience.
To decide, think through, and answer if/then questions.
Example:
If this post is part of a broader campaign and if it's a message that is meant to get more likes, comments, and shares, then the answer is yes, boosting is a great option.
If the post is performing well on the page and you want to get that message in front of an even larger audience, then boosting makes sense.
There are times when a boosted post makes sense and other times when there is an impulse to boost it when it is not worth the money. HAVE A GOAL! Plan ahead and think it through.
READ: Facebook Advertising: What No One Tells You About the Big Blue Boost Button
These frequently (un)asked questions we hear all too often are just part of starting out. With experience and time, you'll get there!