So far, we've worked through the steps of creating a brand new and amazing social media marketing strategy for your business.
And each step has been paving the path towards completing that strategy. Now we decide what we're going to put out there (content), which really is the most fun part.
Think of all the different kinds of content you could choose Make good choices, and you will have social media platforms that YOUR CUSTOMERS WILL LOVE!
Planning the Perfect Content for Your Social Media Marketing Strategy
Here's where we've been so far, in case you need a refresher –
Step 1: Set Your Goals
Step 2: Audit Your Accounts
Step 3: Set Your Metrics
Step 4: Do Your Research
Now we've reached Step 5: Content!
Steps 1 – 4 really are the start of the perfect plan! Now it should be easy to figure out what content you are going to post on social media.
Ask these questions while looking at the data you've accumulated so far. Keep your goals, metrics, and research in mind.
What kinds of posts should you make based on the goals? Will posting links to your website drive more web traffic? Do you need to sell more products?
Who are you trying to talk to with this content? Is your customer a millennial that works from home or a baby-boomer that is reaching retirement age?
Should you post something differently on Twitter than you would on Facebook? How about Instagram? Can you re-use those photos?
To help you visualize this process better… take a look at 7 Social Media Post Ideas with Examples to Fill Out Your Content Marketing Calendar. You'll find examples to help illustrate the "how do I do this?" based on some common goals.
Another tool you should plan to use is a content calendar template. You can also try our free downloadable.
Here's a preview of it: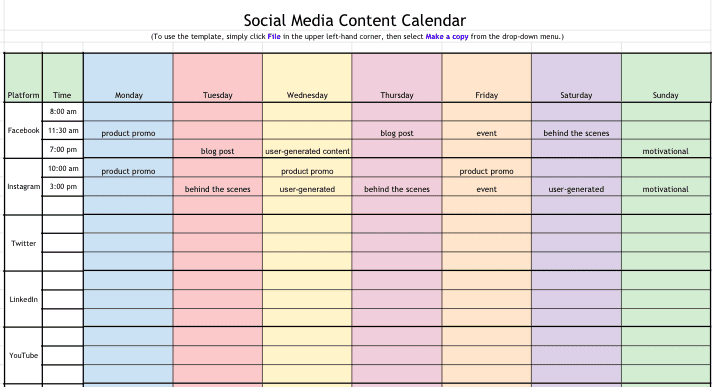 I bet you have lots of ideas (like using video, writing blogs, linking to helpful articles, sharing photos) and a content calendar will give you a way to use them ALL efficiently and effectively.
At this point in the process of creating your social media marketing strategy, the content has probably started to write itself! Which means that you've done everything right so far!
Need to see the complete list? It's okay to read ahead…