We are talking all things social media content right now.
Why?
It saves so much time to work from a template and plan out your social media content in advance. Trust us! We do it for every client.
And we have a free content marketing template that you can download. I'll show you how to use it right now. Then you can become obsessed with planning out your social media content, too.
How To Fill In a Content Marketing Template
Picture this: You come into work on a Monday morning and sit down at your desk with a cup of coffee. You open up Facebook (like you do) and start scrolling. Then you click over to your Facebook Business page… and start to panic. You have to make a post!!! You forgot to plan something out last week and now it's the critical moment and you've choked!
Your poor brain! You needed a content marketing template and you needed to fill it in. It's worth your time to plan in advance. It's not worth your time to scramble last minute.
Here's what you'll see when you download our template: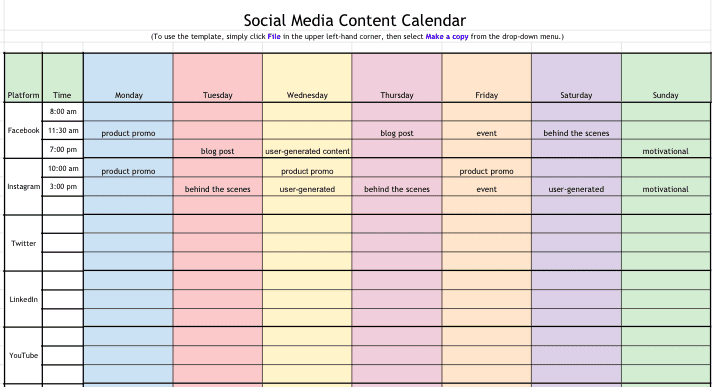 It's essentially a one week calendar page.
The days of the week are across the top. The social platforms are down the side.
Also down the side are the content posting times. These can be exact times for scheduling posts or just a guide.
How to read the content marketing template.

In this Facebook example section of the template, the posting times are 8:00 am, 11:30 am, and 7:00 pm. These will vary depending on your specific audience.
On Monday at 11:30 am, post a piece of product promo content. This can be an image, link to your website, or video… just make it something about a product.
On Tuesday at 7:00 pm, link to a blog post.
Wednesday at 7:00 pm, share some user-generated content. This can be a photo, testimonial, or video.
Thursday at 11:30 am, post a link to a different blog post.
On Friday at 11:30 am, share an event that you are hosting, attending, or promoting.
Saturday at 11:30 am, share a behind the scenes photo, video or status update. Use your imagination!
Sunday at 7:00 pm, share something motivational to end/start the week off in a positive way.
That is how our example works! You can personally be as specific or generic as you want. You can post multiple times a day or only a few times a week. The beauty of this content marketing template is its flexibility!
PRO TIP: At the bottom of the column, keep a list of specific types of content for what you have listed. A great example is "behind the scenes". At the bottom of the column, you could list:
Staff Photo
Workspace Photo
Staff or Workspace Video
Employee Spotlight or Interview
Close-up Sneak Peek of New Product
Here's a real-life example from one of our clients: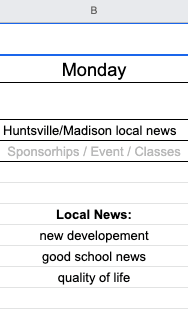 The content marketing plan is to post about local news on Monday, but "local news" means what? To save my over-worked brain, I listed out three examples of what local news to look for in relation to this specific client.
Planning in advance and having a filled in template is so worth it. Take the time to do it right now.