When I first began running social media for the company I previously worked for, I posted when I thought about posting.
And you know what? BIG MISTAKE!
Knowing when to post is almost as important as knowing what to post.
Now that we've shared our Social Media Content Marketing template with you, let's work on figuring out how to fill in the time slots.
And we'll do it using data!
Using Social Media Data to Find the Best Times to Post
Facebook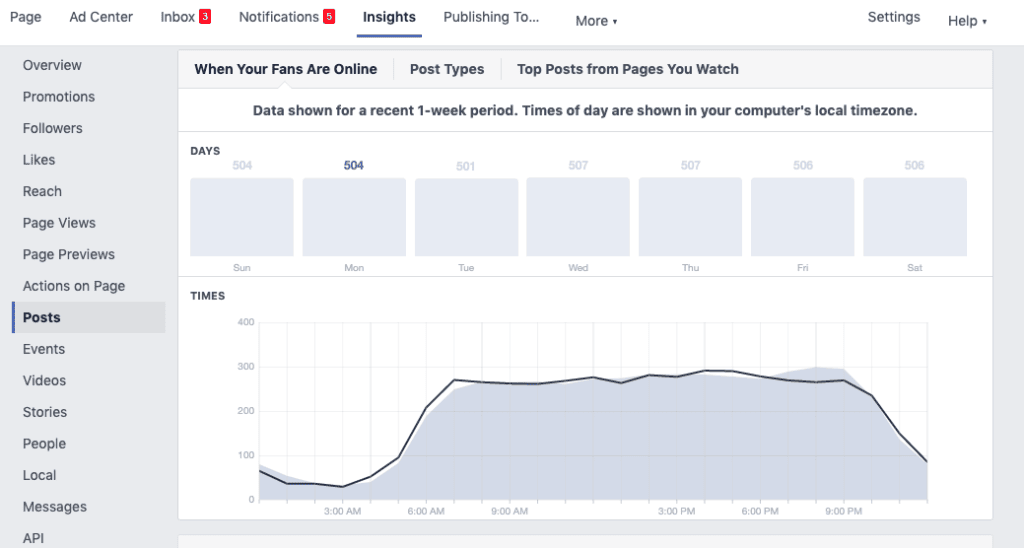 The Insights on your Facebook Business page will tell you when YOUR FACEBOOK AUDIENCE is online.
Click on Insights at the top, then find Posts in the left column.
This chart (that we lovingly refer to as 'the whale') will show you a one week period of time. The shaded blue part is when your Facebook page audience (the people who like and follow your page) are looking at their timeline.
Instagram
You also have Insights for Instagram if you are using an Instagram Business profile.
From your Instagram home screen, click on the three bar menu in the upper right corner, then select Insights.
On the Insights screen, click on Audience and then scroll down to the bottom of the screen to see Followers. This will show you when your Instagram followers are looking at their feed.
The higher the blue bar, the more people are looking at Instagram within that hour.
Test
Now that you know how to find the data, it's time to do some testing. Why?
Because YOUR BUSINESS MAY GO AGAINST what other people recommend! It happens, but you won't know without first trying. Be prepared to test the peak times, but also some off-peak times, or slightly before or after peak times.
Pay attention to how many people saw the post and if adjusting the times made your numbers go up (or down).
Social Media Content Marketing Template
Now that you know how to find and test your posting times, you can fill out our FREE Template.
The post times for each day go down the far left column. Plan out your week of posts in the template.
Want to know even more about filling in that content calendar template, read: How to Build a Social Media Content Calendar.