When you sit down to create a Facebook ad, you know the goal comes first.
After that, you gotta think through how to measure its effectiveness.
It's easy to get bogged down in the science of the ad, and not put as much effort into making sure the message and ad content also work toward your goal. We know!
That's why sometimes, we all need a little inspiration!
Looking at examples of other, GOOD, Facebook ads can shine a light on ways to accomplish your goal that you hadn't thought of.
Examples of Facebook Ads That Work and Why
What were we looking for in these examples to share?
Interesting and useful design, a clear call to action, compelling text, and proper use of Facebook ad features.
Here are a few we found to be inspiring.
Visit Florida
We love this lead ad with a BOOK NOW call to action. We especially love it for its use of video at a unique angle, that's also formatted nicely for mobile devices!
This particular ad is targeted to a Canadian audience, which is made clear in the customized text. And speaking of the text in an ad – repeating can be significant. The text here is repeated from the status to the video. People don't have a lot of attention to give, so take every opportunity to get your message out there as often as possible.
---
Holland America Line
This branding ad features a photo that catches your eye and draws you in. It also asks a question to engage the audience. This will make that audience more likely to remember!
This ad showcases just one stop on the Holland America Line cruise itinerary. It's important to note that you don't have to over-sell your product or service. You could make this the start of a series of ads.
---
BFGoodrich Tires
This Facebook ad is a Lead Generation ad, which requires multiple layers of information and content. The screens are listed in order below.
The ad starts with a video which showcases the product and explains the value of signing up (what you get!).  Adding the emoji gives it a personal touch and keeps the message from getting too "salesy".
With a Lead Generation ad, the sign-up is done directly on Facebook. This provides a level of convenience for the audience… fewer barriers to giving you their info.
The thank you screen gives you another prompt to visit the website. Let no step through this lead generation process go to waste!
---
Charter College
This video views ad features a slideshow of people working in the advertised field (Charter College Medical Assistant Program).  The text focuses on the compelling message of "helping people" and the images in the slideshow back this message up.
LEARN MORE is an excellent call to action for someone who is interested but not ready to fill out an application.
---
Project Repat
The focus of this lead conversion ad is clearly on the price of the product. There is a sense of urgency encouraging the audience not to wait! The other essential part of this ad is that it shows an actual customer holding the product so you know what you can expect to receive if you place an order.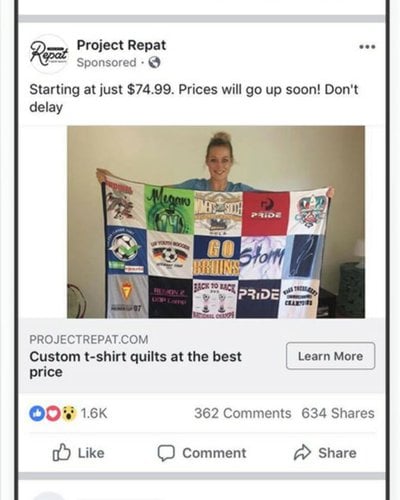 ---
GetResponse
This ad is a retargeting ad, which is designed for Facebook to serve the audience after visiting a designated website.  The graphics used are pretty eye-catching to the audience who may have inquired but didn't sign up.
Notice there are multiple calls to action used on the graphics and in the text. This re-enforces your message, so the audience is more likely to understand what you want them to do.
If you need to step back and better understand the ad types and calls to action referenced here, check out our Beginners Guide to Facebook Ads Manager.
Need EVEN MORE inspiration? Check out Facebook Business.