Figuring out how to talk about products and services on social media can be really hard. If you follow the 80/20 rule (80% informative, educational, entertaining, useful/20% sales), it may be difficult to know where products fit into the mix.
But it can be done and done well.
Even if your products aren't sexy, colorful, or popular, there are ways to talk about them in the "social" way of social media.
We are going to review some real-world examples of how you can showcase products on social media without a hard sell. How you can turn them into informative, useful, and even entertaining posts?
Let's take a look.
How to Showcase Your Products on Social Media
Example #1
Show Personality
Pizzelle's Confections are chocolatiers making fine chocolate and specialty treats. Their truffles are high-end with a matching price tag, and they are located in an ultra-hip arts collective inside a renovated textile mill. But despite how it might look on paper, the brand is chock-full of personality that is true to the owner's style while respecting the products.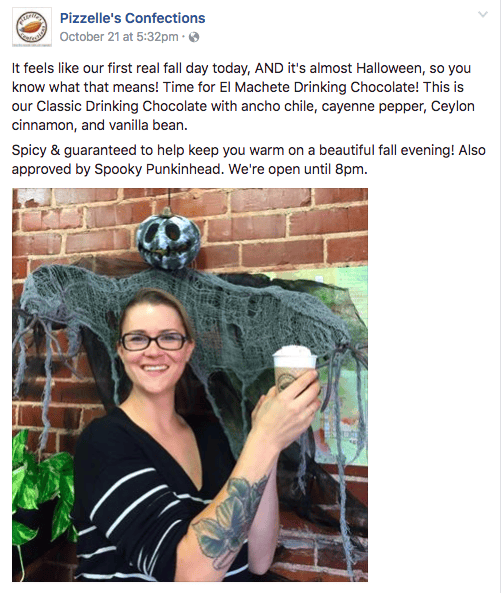 TAKEAWAY: Don't be afraid to show some personality! Social media loves an authentic voice.
Example #2
Talk Up Features, Functionality & Design
Cisco Systems is the largest company in the world manufacturing and selling networking equipment. They have many partnerships and collaborations, including with Apple. This post is a great example of focusing on a partnership and product features. Cisco mentions just enough to pique your interest and lead you to click on the link and learn more.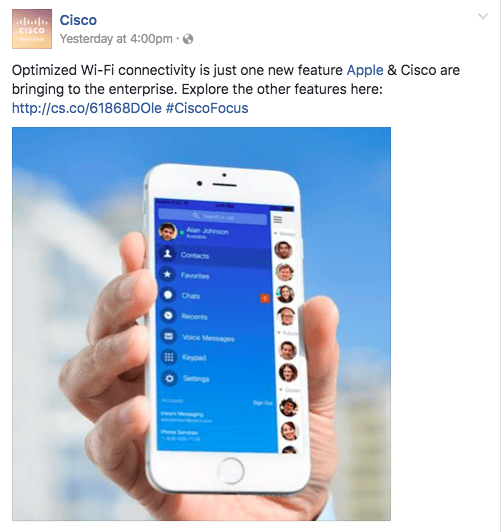 TAKEAWAY: Talk about features and functionality, partnerships, and design. This can give you many ways to post about a single product. 
Example #3
Sell Without "Selling"
Lockheed Martin is a global security and aerospace company employing almost 100,000 people worldwide. This post is a great example of making an emotional appeal. The product, a hybrid airship, is secondary to Lockheed Martin's commitment to saving lives. That's hard to resist.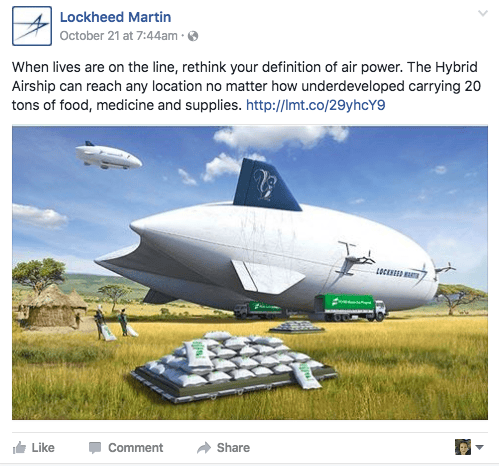 TAKEAWAY: Find the emotional appeal of your company, products, or services. How can you solve a specific problem? This is a very social media-friendly approach because it's more conversational in nature. 
Example #4
State the Facts
Doctor On Demand is an app that allows users to visit with a doctor via video. The app is free, but the video conference with a doctor incurs a fee. It's a pretty straightforward product. But talking about the need to see a doctor can be a challenge, so we like this great example of simply stating facts. It's an easy comparison list that gets right to the point. Short, simple, and factual.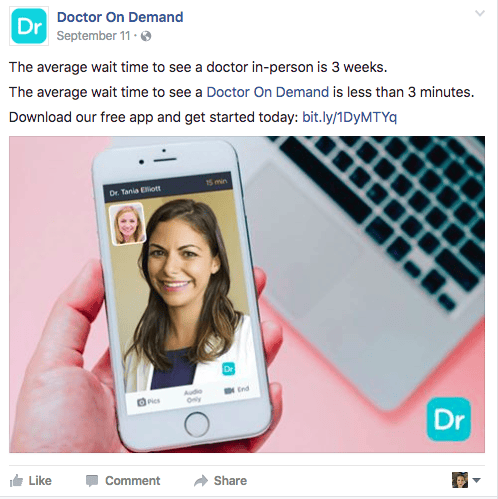 TAKEAWAY: There's no need to over-explain products and services. Simple factual statements supported by an eye-catching graphic are a great fit for social media. 
Example #5
Consider Video
Northrop Grumman is a global security company providing solutions for government and commercial corporations. Their products can be complicated to talk about, given the limiting nature of social media. A great solution employed here on Twitter is to use a short video to demonstrate the product with a "did you know" (#DYK) question.
TAKEAWAY: Quick bits of information accompanied by a short video (just :11 seconds in the example) is a very effective way to showcase a product. 
Social media is the perfect place to talk about your products and services. Use these examples and think of other ways in which you can show off your products without pushing a hard sell.